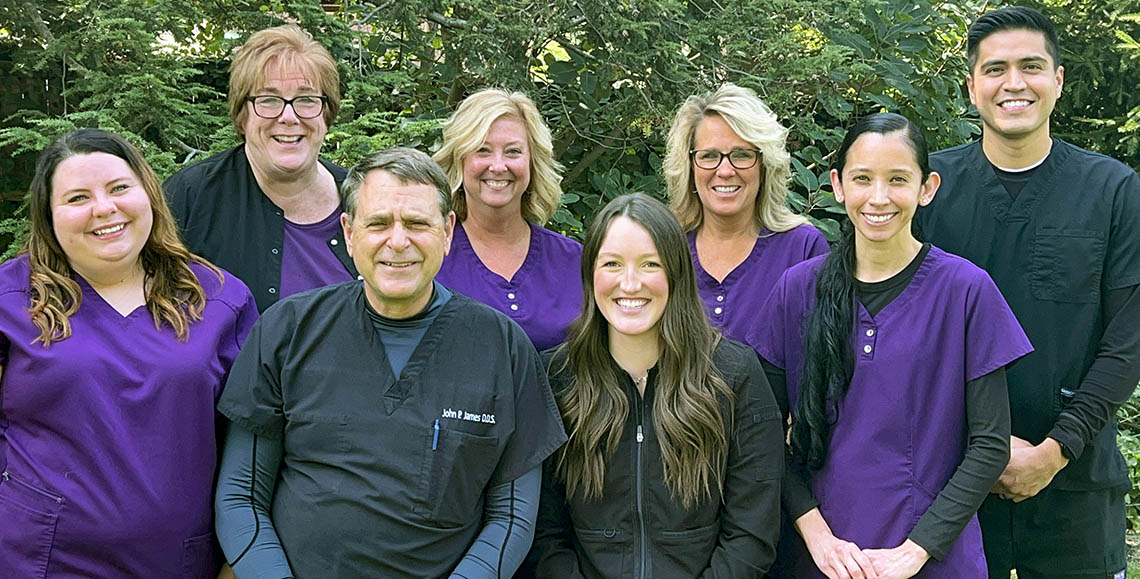 Dr. Sydney VanArsdel with Dr. John James and staff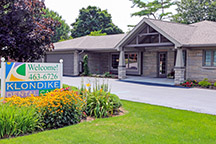 The staff at Klondike Dental Care in West Lafayette are committed to providing you with affordable, comfortable and personal dental care.
We provide a full range of dental services for you and your family, including general dentistry, dental implants, cosmetic dentistry, teeth whitening, crowns, root canal therapy, digital x-rays, and preventive dentistry. Our dentist and professional staff practice state-of-the-art antiseptic procedures.
We offer convenient payment options. Our insured patients incur little or no out-of-pocket costs for preventive care. Ask us about interest-free financing.
We welcome new patients, busy professionals and families. We respect your schedule, and offer prompt appointments before and after work or school! Our multilingual practice has a convenient West Lafayette location with ample parking. We speak Spanish and Greek.
A letter from Dr. James to His Patients September 2022:
Dear Patients and Friends,
I would like to take this opportunity to thank you for your trust and confidence in allowing me to take care of your dental needs through the years. I have the following good news to share with you: As of September 1st, 2022, Dr. Sydney VanArsdel will assume ownership of Klondike Dental Care. Of course, I have mixed emotions about "passing the torch", and will miss you all! Nevertheless, I am happy that Dr. VanArsdel emulates the values and qualities required to maintain the characteristics of the practice that I, my team, and you, have appreciated.
Sydney VanArsdel, of Bloomington, IN, wanted to be a dentist since she was a child. Nurturing that desire through her youth, she went on to earn a Bachelor of Arts in Biology at IU Bloomington, then completed her Doctorate of Dental Surgery at Indiana University School of Dentistry. Dr. VanArsdel, is married to Jacob VanArsdel, who is a West Lafayette teacher and Boy's Basketball Coach. They are raising their child, Macy, in West Lafayette.
I am very grateful for the opportunity to have served as your Dentist over the years, alongside the outstanding individuals of our team. Their steadfast loyalty to our practice philosophy, and reliable professional competence is greatly appreciated. Therefore, I look forward to continuing to work, for a time, together with them to facilitate transitioning the practice to Dr. VanArsdel's capable hands.
The more I've come to know Dr. VanArsdel, the more confidence I have that she embodies the qualities we all desire in a Dentist, and believe you will as well.
Very Best Regards,
Dr. John P. James, DDS
Call us at
(765) 463-6726
. We are accepting new patients, who may wish to download and complete our
form
and bring it to with you on your first visit. For all patients, we will try to give you an appointment as soon as possible.